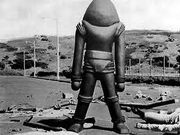 REDIRECT →
Alien
The aliens intentions are originally unknown but attack earth either out of revenge or to conquer, their attack was going well until stopped by the sound cannon and the saucers crash into the landscape presumably killing the aliens inside.
The aliens have a special laser beam and are able to control the minds of the foolish earthmen.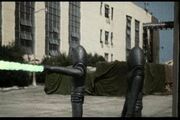 There are several toys of the saucermen that have been realesed.

Ad blocker interference detected!
Wikia is a free-to-use site that makes money from advertising. We have a modified experience for viewers using ad blockers

Wikia is not accessible if you've made further modifications. Remove the custom ad blocker rule(s) and the page will load as expected.