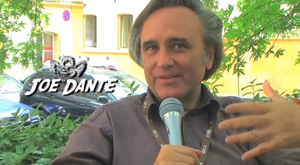 Joe Dante
was film director born in New Jersey. Joe Dante was featured on the documentary
Ray Harryhausen: Special Effects Titan
, where he commented on Ray Harryhausen elaborate
creatures
. Dante also had a similar background to the famous
James Cameron
(who was also featured in the film) and was well known by his famous producer and fellow director
Steven Spielberg
.
Film Career
Edit
After his birth in New Jersey, Joe Dante's first film was with a man named Roger Corman, like James Cameron . He worked as an editor on serveral films such as Grand Theft Auto (film) before codirecting Hollywood Boulevard (1976 film) with Allan Arkush. His first full feature film, Piranha, was released in 1978. After the release of The Howling, he was noticed by Steven Spielberg for whom he directed the third segment of Twilight Zone: The Movie, wherein a woman is 'adopted' by an omnipotent child. His first really big hit, Gremlins, which was also produced by Steven Spielberg, was released in 1984. He would work with Spielberg again on Innerspace and Gremlins 2. His films are well known for their special visual effects.
Later Work
Edit
Because Dante rarely writes his own screenplays, he has developed a reputation as an auteur in the "a p teriori" Bazinian sense of utilizing and transforming existing works toward his own artistic vision. Dante also developed a stock company of actors who worked with him over a long period of time, in the Woody Allen mode. Dick Miller, for example, has been in all of Dante's feature films and most of his television work, while Belinda Balaski, Archie Hahn, and Robert Picardo come in at close second, third, and fourth, with one less production each, respectively. In addition, he "discovered" Ethan Hawke in the grand Hollywood tradition.His respect for the screenwriter extends to the point where, in order to make sure he can confer with the writer on-set and provide some minor, additional remuneration, he always casts the writer in a small part of the production itself. The studio is normally unwilling to pay to have the writer on-set in any other way.
He has cited among his major influences Roger Corman, Chuck Jones, Frank Tashlin, James Whale, and Jean Cocteau, as well as an admiration for the film, Hellzapoppin', from which he frequently borrows jokes because of how difficult the film is to see in the United States.
In 2007, Dante launched the web series Trailers From Hell, which provides commentary by directors, producers and screenwriters on trailers for classic and cult movies. He is also a contributor to the website.