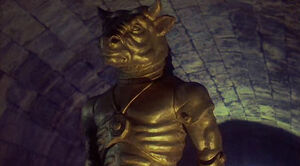 Minaton is a bronze minotaur who appears in the film Sinbad and the Eye of the Tiger. He is created to serve Queen Zenobia to prevent Sinbad from fulfilling his quest. He is powered by a golden clockwork heart and possesses unfathomable strength. He is ultimately crushed by an enormous block of stone when he removes it from the temple walls.
Ad blocker interference detected!
Wikia is a free-to-use site that makes money from advertising. We have a modified experience for viewers using ad blockers

Wikia is not accessible if you've made further modifications. Remove the custom ad blocker rule(s) and the page will load as expected.